Efficiency, precision, power
Machine manufacturer LPW Reinigungssysteme GmbH comes from FT Germany from the state of Baden-Wurttemberg. They produce industrial washing machines for washing/cleaning of workpieces.
The main industries in which machines are represented are: automotive, medicine, optics, electronics, hydraulics, valves and cleaning after thermal or electrochemical treatment.
LPV machines offer
LPW offers Single-bath flood washing system, multi-bath flood washing system, single-chamber spray washing system and belt spray washing system.
Single-bath flood
washing system
Multi-bath flood
washing system
Single-chamber spray
washing system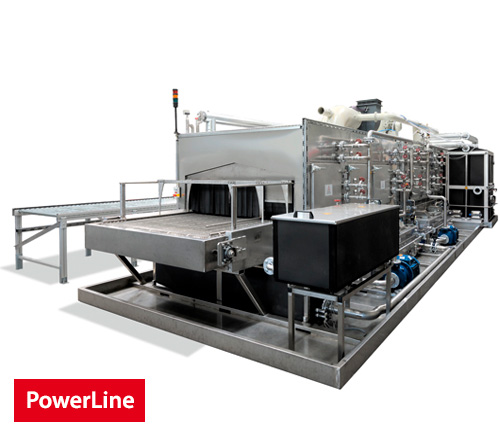 Belt spray
washing system
LPW Innovative technologies
Cyclic Nucleation Process (CNP)
WHAT IS CNP?
Patent-pending CNp process, makes it possible to clean capillary structures, complex three-dimensional geometries, blind holes, and areas that are covered up. Cyclic Nucleation is cyclic phase transition in water as a cleaning fluid. As a cleaning mechanism, cavitation is generated in the fluid. This occurs by mechanically created pressure changes that also go far down into the reduced pressure area. An asymmetrical current is thereby also created in the vacuum chamber. As this phase transition occurs on the interfaces (surfaces), the cleaning work is completed extremely effectively and gently at same time.
Due to the isostatic distribution of pressure change in the cleaning fluid, Cyclic Nucleation is highly effective in cleaning difficult geometries like undercuts and narrow channels.
The asymmetrical change of volume creates a pumping effect ensuring the exchange of media in capillaries and holes helping remove impurities.
USAGE
This intensive cleaning methods is used in general industry and in the automobile industry as well as in medical industry. It can be combined with all the commonly used process parameters of industrial cleaning technology. This applies with regard to selective movements of goods (rotating, swivelling, interval swivelling), or in connection with various spray, flood or ultrasound processes.
Želite li saznati više?
Dozvolite da Vam predstavimo sve mogućnosti i posebnosti LPV strojeva i pomognemo Vam odabrati najbolju opciju za Vaše potrebe!